Introducing the list of four Ukiyo-e artists who lead the Ukiyo-e art world in the Edo period. Innovative composition, vivid colors, simple and delicate descriptions have had a great impact on Western painters as well as Van Gogh and Monet.
Although it is a tentacle thing now, it is surprising that this is about 150 years ago work.
Japanese version 「世界が驚いた! 江戸時代の有名浮世絵師の傑作27枚を紹介【海外で人気】」
First person is Kitagawa Utamaro.
A master of a beauty painting that pursued the beauty of a woman and drew out to the inside
A masterpiece of bijin-ga (pictures of beautiful women) representing works of Kitagawa Utamaro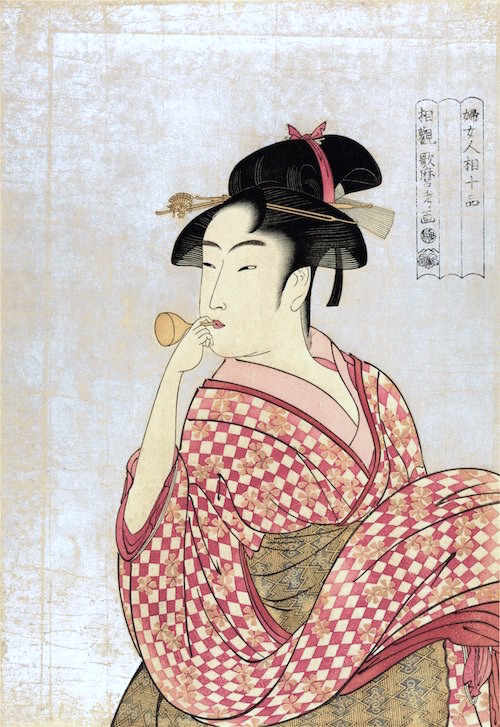 The beauty of women seems to stand out by omitting the background. Red and white checkered pattern kimono fashionable. Young girls are both innocent and beautiful.
Yūjo when writing love sentences seems to be happy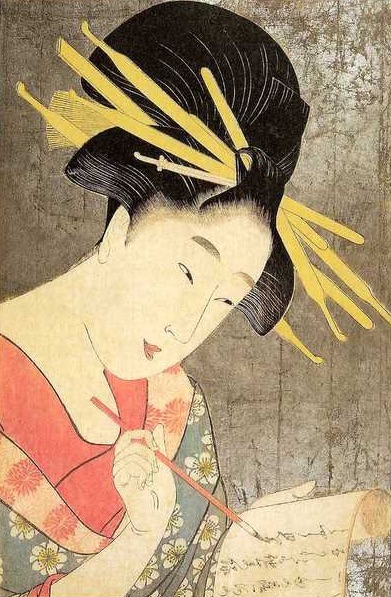 Is it a love sentence that beautiful yūjo wrote? It seems that the expression of a woman is exactly in love. The smiley face is wonderful.
Transparency creates sex appeal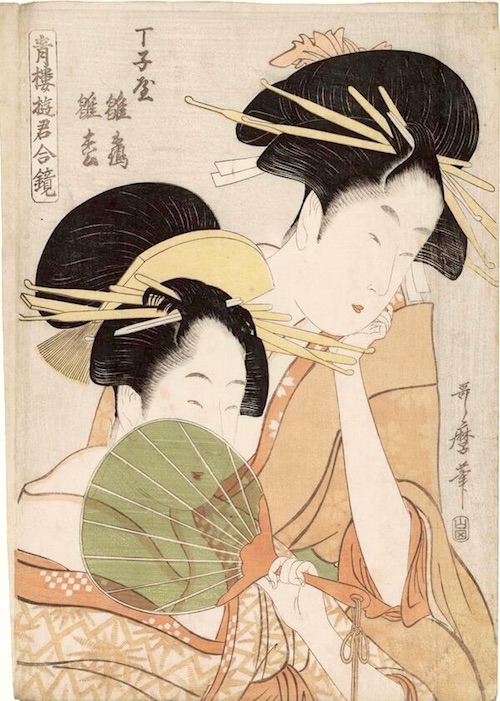 Kitagawa Utamaro who pursued female beauty. He discovered that "transparency" has a more beautiful and more sexy effect on women. So, there are many bijin-ga(pictures of beautiful women) skillfully incorporating "Transparency" in Kittagawa Utamaro's work.
Contrast between dark night and light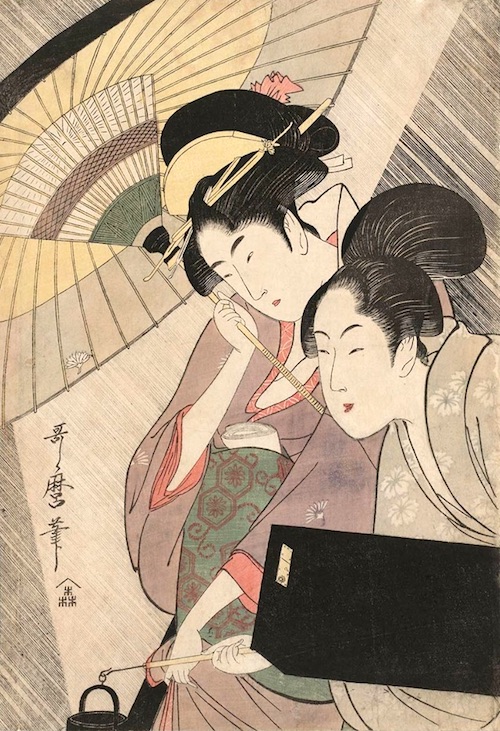 In the rain, Geisha and accompanying woman head towards ozashiki (banquets in which guests are attended by geisha) . The light that comes from the lantern that illuminates the feet of the dark night looks like a spotlight.
Angry face is also good!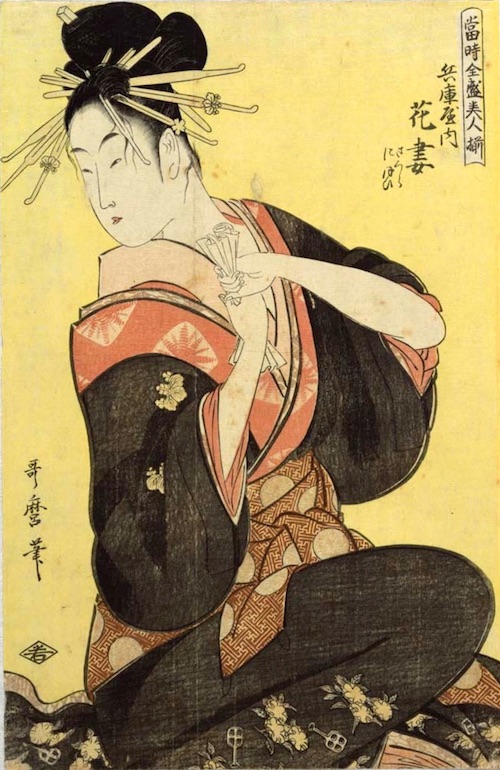 Did yūjo get a letter from a cold man? She is trying to throw away the letter with an angry face. The light color kimono seems to be a fabric with transparency, and the pattern of red long undershirt is transparent. It is a masterpiece that is marvelous, such as a feminine elegant line born with her face turning to the side, a curved line of thighs, a angry look.
A little strange bijin-ga with a characteristic facial expression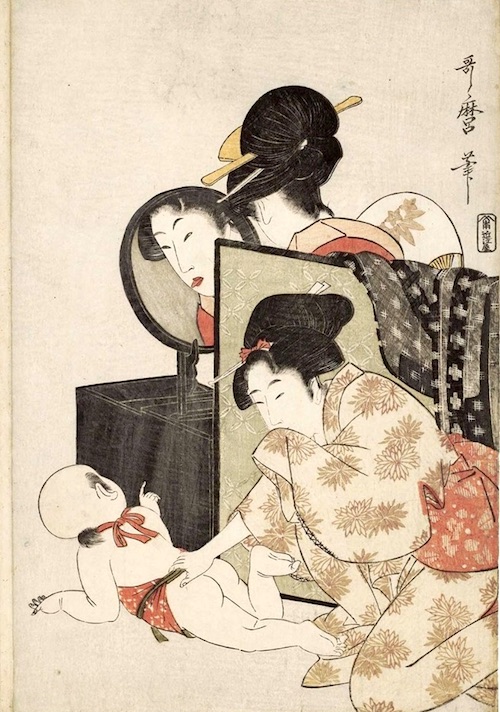 A woman comforts a baby through the mirror. The expression of sticking her tongue out is unique. Because Kitagawa Utamaro pursued female beauty greedily, perhaps such expression could be drawn.
About Kitagawa Utamaro: He devised a bijin-ga in the form of "Ōkubi-e" (picture showing only the head or the head and upper  torso), and built a era as a leading expert on painting bijin-ga. By emphasizing the face of the model, he tried to draw not only her beauty but also her personality, emotion, and life. Although it was Kitagawa Utamaro who was at the height of popularity, the shogunate thought that some works of Kitagawa Utamaro were criticizing the shogunate. He was caught and put in prison. Later, he was forgiven, but he passed away with disappointment.
Second person is Tōshūsai Sharaku.
The shock was given to the world by announcing strongly deformed works, but after that, a mysterious artist who disappeared
Everyone should have seen it at least once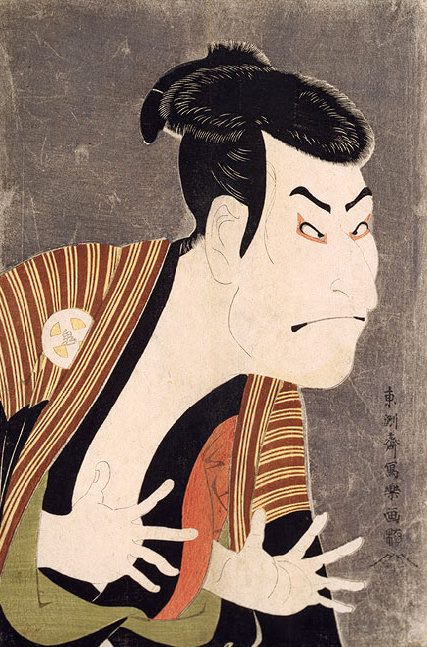 Works on the theme of Kabuki stage. Since it has been used for many advertisements etc. so far, there are many people who have seen it at least once. Poses that protrude both hands from the pocket and look like challenge the enemy are excellent.
Bring it on!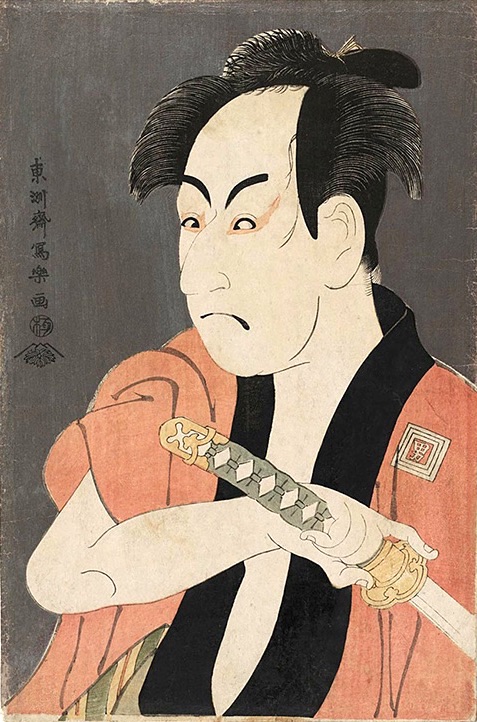 This work is paired with "Actor Ôtani Oniji III as the Footman (Yakko) Edohei" introduced earlier. Edohei was confronted Ippei maliciously. Red colored "juban" (undershirt) is brilliant, and this work is also commonly referred to as "Aka juban" (red colored undershirt). By the way, Ichikawa Omezô acting Ippei was a 14 – year – old boy then. Compared to the actor drawn in other works of Sharaka indeed, he looks delicate and innocent.
A masterpiece to convey the characteristic style of a great actor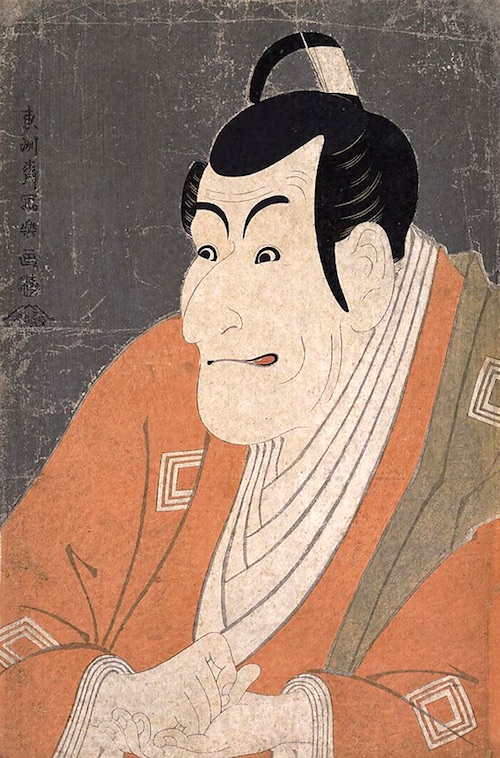 It is a popular work in the world as one of Sharaku's masterpieces. This model of painting is Ichikawa Ebizô (Ichikawa Danjuro Ⅴ) who was reputed as "the preeminent actor in the Kabuki world" at the time. I feel the dignified style of actors from dynamic composition and an lively facial expression.
Even when drawing a female impersonator, it shows its unique sensibility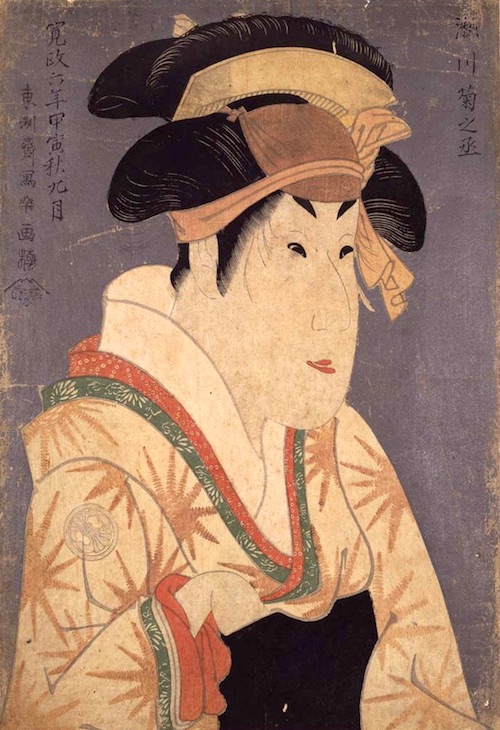 Works on the theme of Kabuki stage. The person drawn with this picture is Segawa Kikunojô III who gained popularity as a "the best name female impersonator in Edo" at that time. It is a masterpiece trying to draw not only the atmosphere of the role of supporting the husband in spite of her illness but also the characteristic style of Kikunojô's female impersonator.
Humor created by a contrasting combination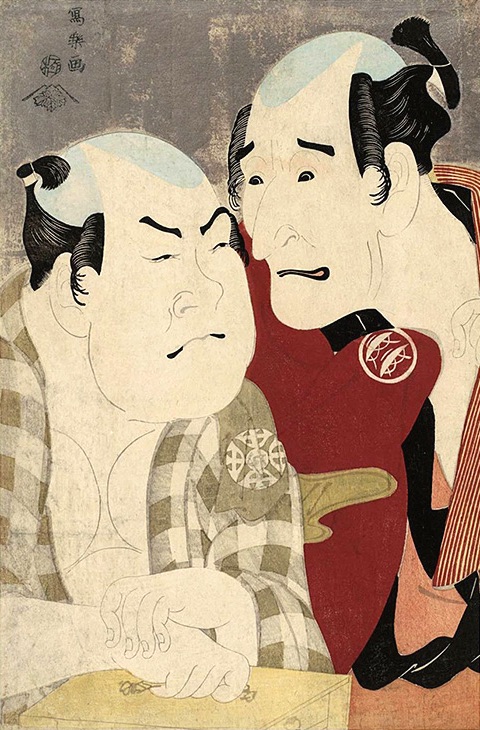 Works on the theme of Kyōgen stage. There are 28 Ōkubi-e (picture showing only the head or the head and upper  torso) of Sharaku's debut work, 5 of which are drawn in pairs, among which this work is said to be the best masterpiece. It is impressive that the two people are thoroughly depicted in contrast. Fat or thin, Big eyes or thin eyes, A snub nose or A hooked nose, Raised eyebrows or downturned eyebrows, The color of the kimono is also dark or pale, etc. By drawing thoroughly contrastingly, humor which is not in other "Yakusha-e" (actor prints) has been created. By the way, these men were not so good actors, their role was not important. Sharaku who draws such men and sublimates them to masterpieces is really amazing!
About Tōshūsai Sharaku: He was famous as a mysterious ukiyo-e artist who acted only ten months since 1794 and had disappeared suddenly. 28 "Yakusha-e" (actor prints) of his debut work are still popular as a masterpiece. Until then it was natural to draw the actors beautifully as "Yakusha-e", but Sharaku 's "Yakusha-e" painting shocked people with intense deformation and dynamism. However, as Sharaku 's "Yakusha-e" drawn as a personality even the defects of appearance, so it was not popular among Kabuki fans and actors himself at the time. By the way, his identity was a mystery for a long time, but in recent years the most prevalent theory says that he was a Noh actor named Saito Jurobei and a retainer of the daimyo of Awa.
Third person is Katsushika Hokusai.
The old man pursued the essence of the picture until he died. His signature is  "Gakyo Rojin Manji"  (The Old Man Mad About Art).
Two Mt. Fuji "Red" and "Black"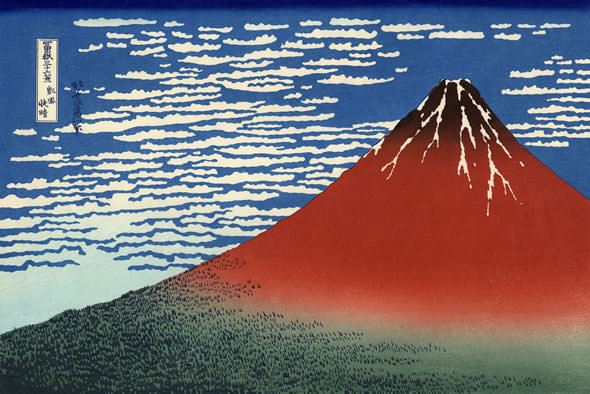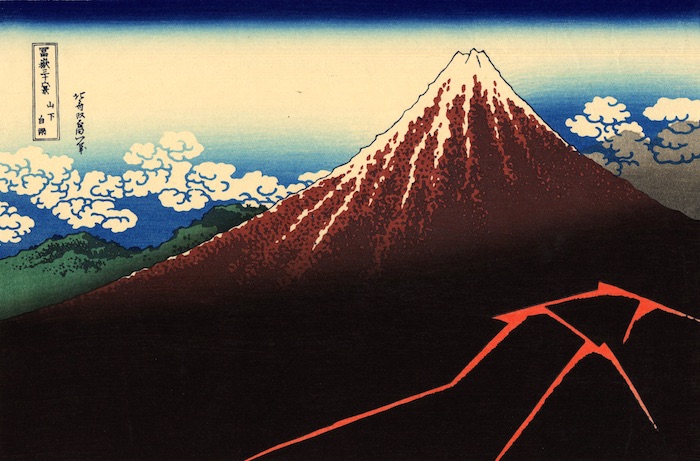 "36 Views of Mount Fuji" (Fugaku Sanjūrokkei) is a series of landscape prints. It is famous as the representative work of Katsushika Hokusai. Among the famous works of the series, these works are particularly highly acclaimed. When comparing the two, the composition is almost the same while "Fine Wind, Clear Weather (Gaifû kaisei), also known as Red Fuji" is a refreshing, relaxed and quiet Fuji. One "Rainstorm beneath the Summit (Sanka haku-u), also known as Black Fuji" is a rough Mt. Fuji that lightning is running and the thunder noise seems to be heard.
A mysterious world transcending reality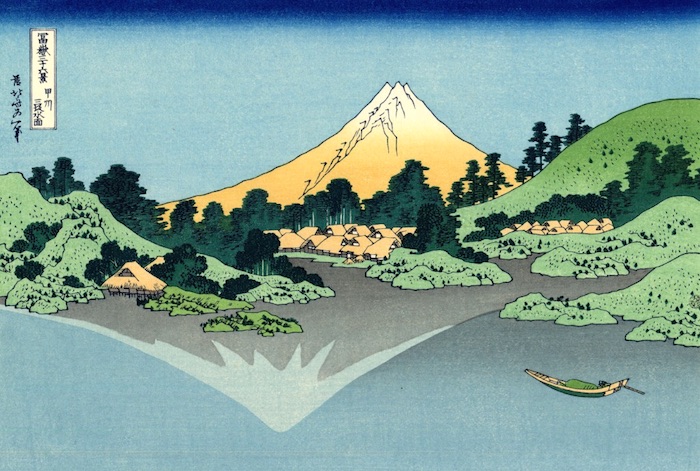 Also from "36 Views of Mount Fuji". Mount Fuji in early summer is drawn, fresh green is brilliant. "Upside-down Fuji" appears in Lake Kawaguchi with no wave, only one ship is moving. It is a landscape painting full of serene air. However, there are strange things to see in this picture. Mt. Fuji is a summer mountain with no snow, but the "Upside-down Fuji" reflected on the lake surface is a winter mountain where snow is piled up. Furthermore, the actual Mt. Fuji and "Upside-down Fuji" are drawn symmetrically. It is a landscape that is impossible in reality, but Hokusai's drawing makes it a touching scenery beyond reality.
Cloud bridge connecting the lower world and the heavenly world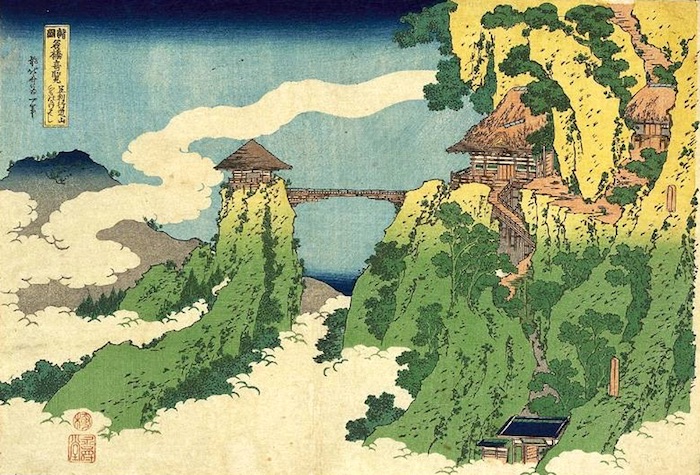 From the series of landscape paintings depicting strange bridges throughout the country "the series Remarkable Views of Bridges in Various Provinces (Shokoku meikyô kiran)". There is a bridge over an amazing place. This is a sanctuary of mountain faith called Jyôin-ji Temple in Mount Gyôdô, a bridge connecting the main hall and the tea room is drawn. However, the "true bridge" in this picture will be a cloud bridge that flows as if connecting the lower world and the heavenly world.
It's grotesque but a bit funny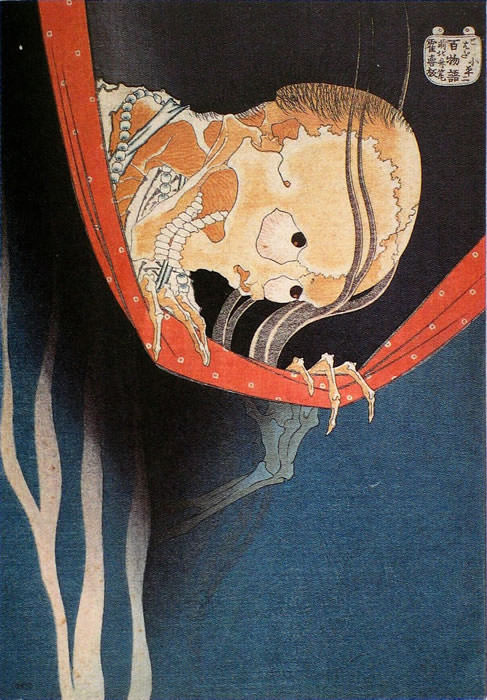 This picture is one of "the series One Hundred Ghost Stories (Hyaku monogatari)". Koheiji is an inconspicuous Kabuki actor appearing in a ghost story in the Edo period and he is good at playing ghosts. Koheiji, who was killed by his wife's cheating partner and became a ghost, is looking over the top of the mosquito net. His upturned eyes are scary but  a little interesting. And I feel Hokusai's drawing skill which is not extraordinary for depicting bones and muscles.
Another "Great Wave"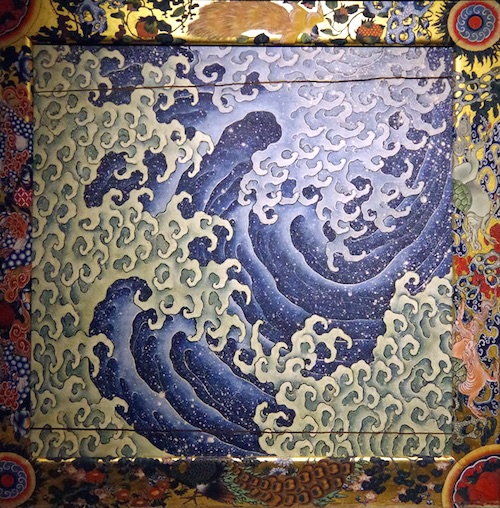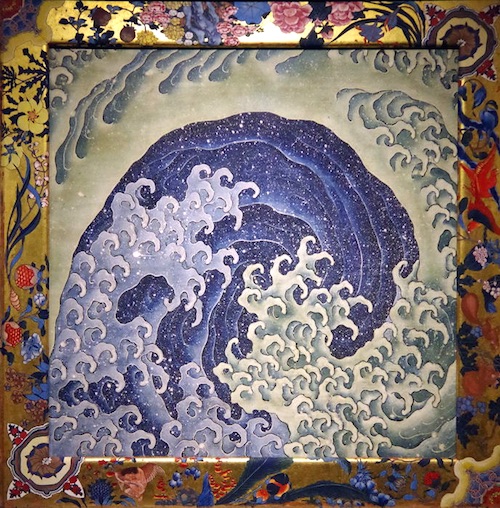 This work was drawn as a ceiling picture of a festival stall in the town when the 83-year-old Hokusai visited Obuse, Shinshu. The first wave swells violently as if it intersects and the second wave swells like a circle as it gently sticks together. Although only wave is drawn succinctly, it is the composition, design and force that only Hokusai can draw. By the way, a child like an angel who has feathers on his back is drawn on the picture frame of "Feminine Waves (Menami)". It is a mysterious "grate wave".
Powerful self-portrait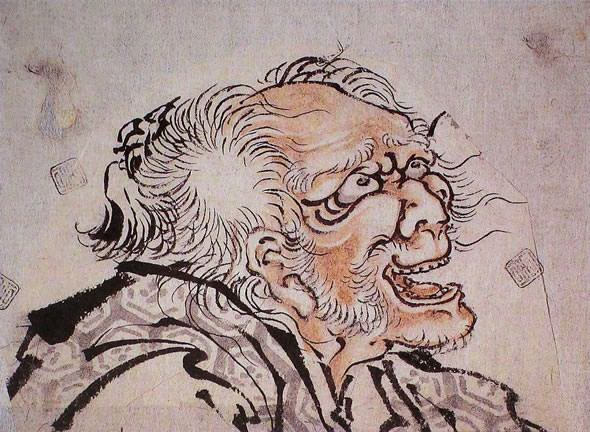 About Katsushika Hokusai: He was a genius painter born in Edo, it is not an exaggeration to say that it is "the world's most famous Japanese painter." He pursued the essence of painting greedily until he dies, and the work depicted in his life was over 30,000. In a wide range of fields such as portrait, landscape painting, shunga (Japanese erotic art), manga, with all things as subjects, he continued to draw to become "real painter". Hokusai's work is still highly appreciated around the world and is loved by many fans. He seemed to be a strange person as many geniuses were, and he was famous for having moved 93 times in his life.
Fourth person is Utagawa Hiroshige.
Landscape painting giant who shocked the world
Fierce showers, running people, rumbling of bamboo grove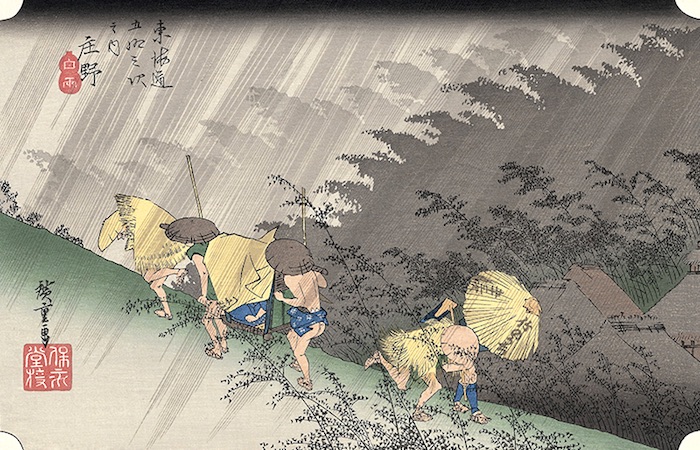 Utagawa Hiroshige's masterpiece is "The series Fifty-three Stations of the Tôkaidô Road (Tôkaidô gojûsan tsugi)". Among them, this work is said to be a masterpiece in particular. And the bamboo grove is getting intense. It seems that you can hear the sound of rain, footsteps, rumbling of bamboo grove. The composition is interesting, and the three diagonal lines of rain, slope, bamboo bush are drawing zigzag. Also, regarding the bamboo grove, depth and movement can be felt by adding double silhouette that changed concentration.
Modern with straight lines and curves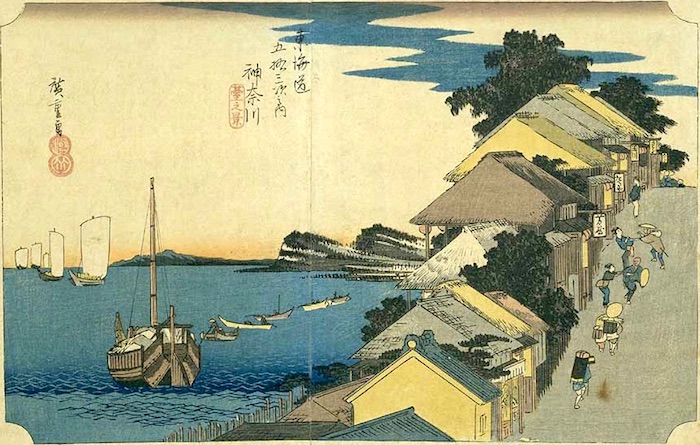 also from "The series Fifty-three Stations of the Tôkaidô Road (Tôkaidô gojûsan tsugi)".  It is a scenery from the hill which overlooks the Edo bay. It is the tea house and the restaurant that arranges the eaves on the slope. The horizontal line of the Edo bay where a lot of boats go and the curve of the shops that follow, the curve that the tree on the slope that follows it, the two lines make it a modern impression, as if we are seeing posters.
Just a little while, stay over at our place!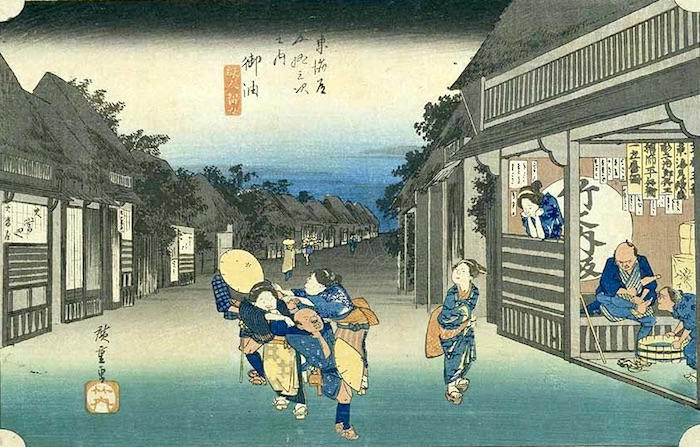 also from "The series Fifty-three Stations of the Tôkaidô Road (Tôkaidô gojûsan tsugi)". Goyu was prosperous as a key hub of traffic and there were many inn. The women drawn in the center are barkers called "tome onna". It seems that they have forcibly invited. When they found group travelers, they took a shy person first to forcibly to the inn. It is a hostage lol. Even with this picture, a man is grasped by a mighty "tome onna" and it seems that he is saying "Ouch!".
Just looking it makes me feel myself being sucked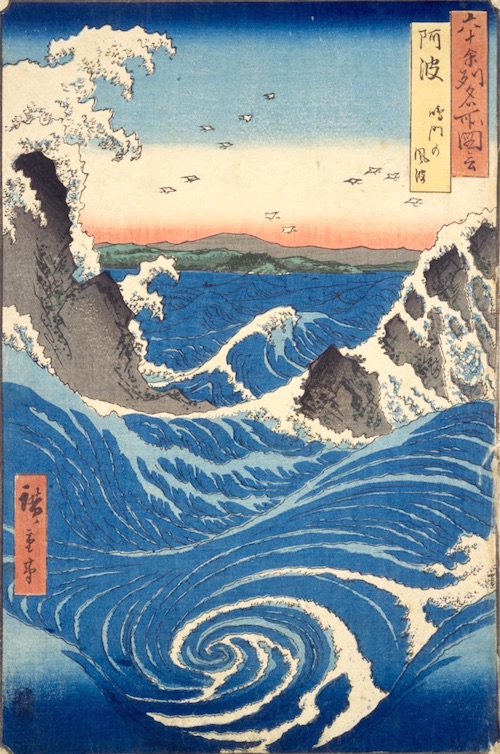 From masterpiece "The series Famous Places in the Sixty-odd Provinces (Rokujûyoshû meisho zue)" in Hiroshige's later years. Famous "The Naruto whirlpools" are drawn, how impressive! A violent wave hitting a rock, and a large whirlpools which can be seen like an eyeball. Just looking it makes me feel myself being sucked. By the way, the indigo color which is also the leading role in this work is also called "Hiroshige Blue" because its beauty is highly appreciated all over the world.
Fantastic moon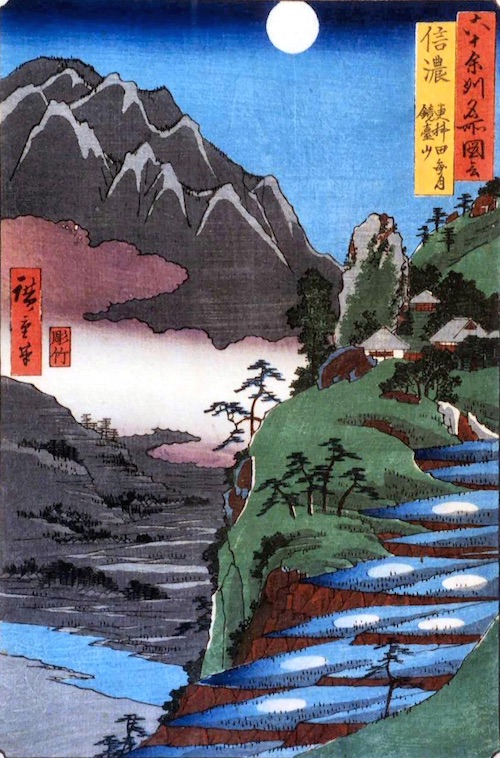 This is also from "the series Famous Places in the Sixty-odd Provinces (Rokujûyoshû meisho zue)". Many works in this series are innovative composition, but this picture is also  ingenious design. The scenery of the moon reflected in the rice terrace of Mt. Kamuriki. This mountain Kamuriki is famous as "famous land for moon viewing" in Nagano prefecture. In reality, it seems that you can not see the moon at the same time in all rice terraces, but it is a fantasy world unique to fiction. The contrast between the colorful landscape reflecting the moon on the right and the monochrome landscape on the left is exquisite.
Appears in Van Gogh's paintings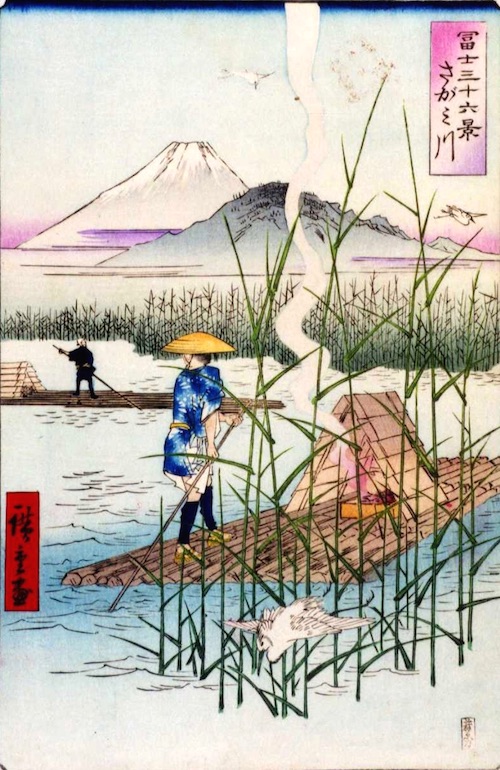 From "The series Thirty-six Views of Mount Fuji (Fuji sanjûrokkei)", depicting Mount Fuji. There is a man who is making a fire on the raft going down the Sagami River. Fuji which he looks up is about to be wrapped in sunsets. About this work, it is also known that Van Gogh who was a fan of ukiyo-e adopted in his masterpiece work.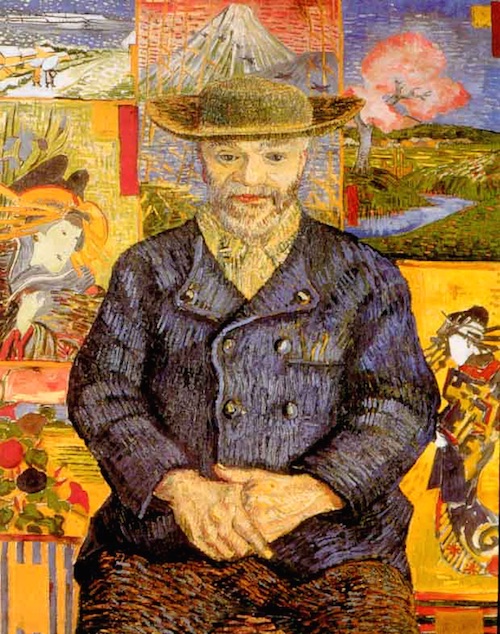 Ukiyo-e is used in the background. Van Gogh liked ukiyo-e too much! Where is Hiroshige's "The Sagami River", Mt. Fuji can be seen at the top of the picture. In addition, Hiroshige's other work of  is also drawn on the background.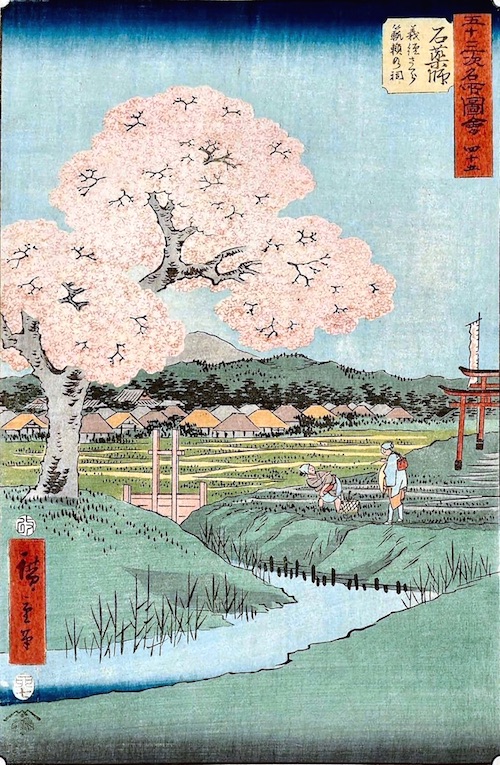 It is used on the upper right of the old man. Van Gogh was a big fan of Utagawa Hiroshige.
The emotional landscape that Monet loved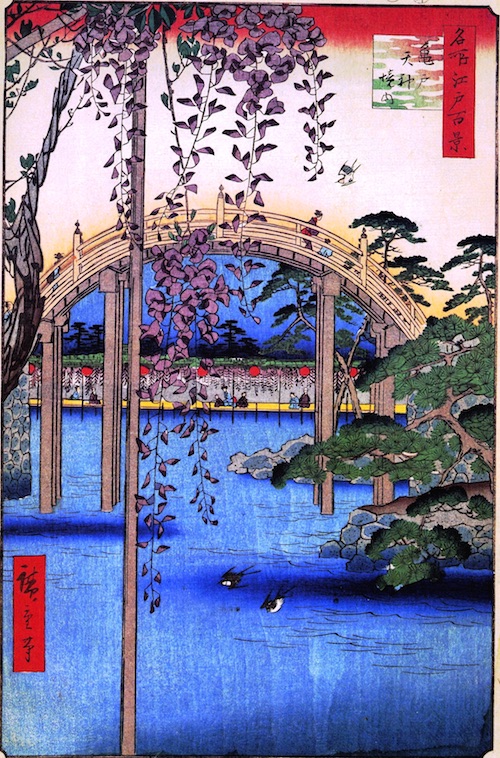 Unfinished masterpiece series "The series One Hundred Famous Views of Edo (Meisho Edo hyakkei)" continued to be drawn until Utagawa Hiroshige died. It became popular by showing the landscape of Edo with a novel method and composition taking in view from the bird's-eye view and zooming in and it became a huge unprecedented hit.
It is famous that Van Gogh imitated the work "The Plum Garden at Kameido Shrine(Kameido umeyashiki) " of the same series. This picture is also one of the same series, and Kameido Tenjin Shrine crowded with people enjoying wisteria in full bloom is drawn. Wisteria and drum bridge drawn boldly are impressive.
The person who was fascinated by this emotional scenery is a painter Claude Monet representing the Impressionist. Monet also loved ukiyo-e, and he had collected many ukiyo-e. Also, in the garden that Monet made as "the ideal garden", Willow, Wisteria and irises are planted, and there is a water lily pond bridging the Japanese-style drum bridge. These are said to be the influence of ukiyo-e. In particular, he seems to be quite inspired by Hiroshige's next work. In particular, he seems to be quite inspired by Hiroshige's work "Inside Kameido Tenjin Shrine (Kameido Tenjin keidai)".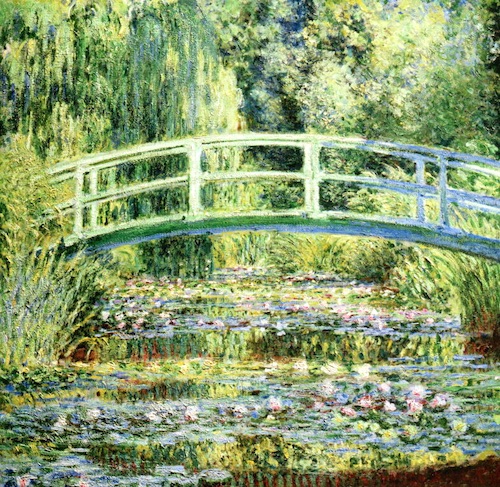 In this work by Monet, the drum bridge with wisteria is drawn. It seems that Monet was influenced by Hiroshige.
About Utagawa Hiroshige: He was born in a house of firefighters in Edo, once took over the family business, but became a painter who was longing since as a young age. He appeared in Hokusai's later life, he gathered overwhelming support with outstanding landscape paintings and became popular painter instead of Hokusai. Like Hokusai, Hiroshige has a great influence on painters around the world, and it is also known that Vincent van Gogh and Claude Monet replicated.
How was it? Although it is a work of more than 200 years, the charm of Ukiyoe is fresh rather than faded!