"Shunga" is Ukiyo-e prints popular by depicting the scenes of sexual intercourse between the sexes or the same sex. Shunga is often thought of as an erotic book (art) in the Edo period, but in reality, it was called "laughing picture" as it was full of humor as well as sexual depiction. I introduce the masterpieces of the shunga of the Edo period which samurai and commoners enjoyed a lot!
Recently, Shunga is also popular in exhibitions. Although it is not known unexpectedly, most famous Ukiyoe painters in the Edo period have also painted a shunga. Katsushika Hokusai who is an internationally renowned genius artist, Utagawa Kuniyoshi as an "eccentric painter" who loved cats, and Utamaro Kitagawa who is a master of "Bijin-ga" (pictures of beautiful women) etc. According to one theory, "Because shunga work was high manuscript fee, they unwillingly undertook it for their living". However, from the finished works and the pen names it shows that they enjoyed painting. I introduce famous shunga masterpieces that the six great Ukiyo-e artists in the Edo period drawn!
First person is Katsushika Hokusai.
He is a representative artist in Japan, not to mention the Edo period. His work "Fine Wind, Clear Weather (Gaifû kaisei), also known as Red Fuji" and "Under the Wave off Kanagawa (Kanagawa-oki nami-ura), also known as the Great Wave" is famous worldwide, from the series Thirty-six Views of Mount Fuji (Fugaku sanjûrokkei). Even those who are not interested in painting should have seen these works at least once!
The original of "Tentacle erotica" ?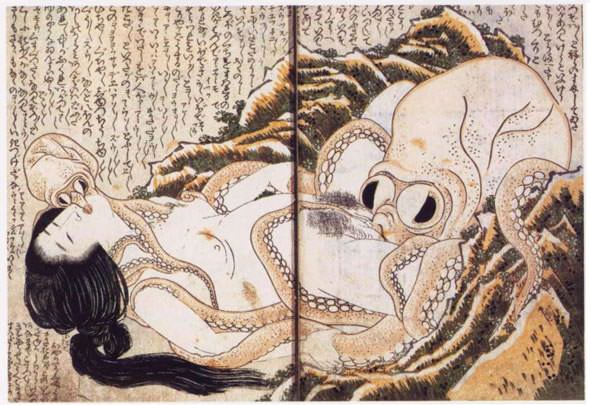 This is a woodblock print which is included in the pornography "Kinoe no komatsu (English: Young Pines)". A shell diver is attacked by two octopuses. Although it is the so-called "Tentacle erotica" in our present time, it is surprising that the work was drawn about 150 years ago. Katsushika Hokusai, too much to go ahead of the times! For those interested, I will roughly translate the content.
Big octopus "It was worth aiming, I finally caught her. It's a wonderful secret place that swell. I'll suck and enjoy her, after all, take her to the The Palace Under the Sea and keep her as a mistress. "
By the way, it was also Katsushika Hokusai who wrote this sentence. I don't think he unwillingly undertook.
Male and female faces are genital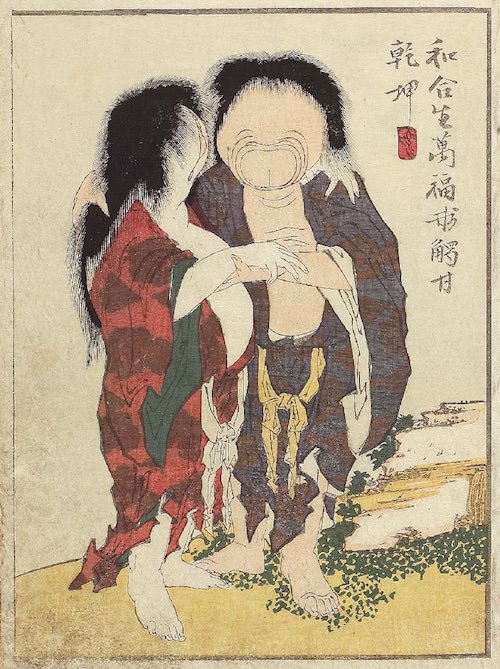 This is a cover picture of ehon  (erotic ukiyo-e book) "Manpuku wagôjin" drawn by Katsushika Hokusai when he was 74 years old. Hokusai is getting more and more impressive around the age of over 70, but this work also does not make us feel old. The motif is a picture titled "Kanzan and Jittoku zu" depicting depicts Kanzan and Jittoku who are  strange hermits in ancient Chinese, which has often became a subject in the Edo period. It is pleasant that they go hand in hand and seem to get along real good.
Women's feet are sexy and excellent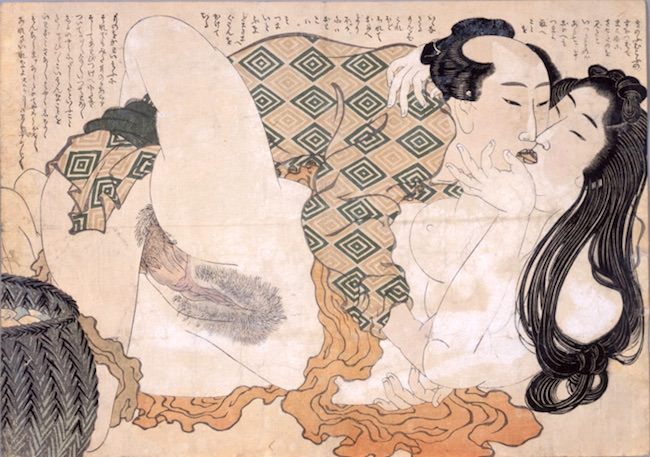 A couple of fisherman and woman shell diver hook up. You can see a basket containing many shells at the bottom left. Disheveled black hair make us feel oriental sex appeal. According to the content, To a woman shell diver desperately denying the hoax that she had an affair with other fishermen, the fisherman says "Anyway, let 's enjoy sex quite now!". His kimono design, the color of her red loincloth and black hair is also brilliant, and it's truly Hokusai!
Second person is Suzuki Harunobu.
He was active in the middle of the Edo period. He was Ukiyo-e artist who was good at drawing a slender girl such as a tea house idol "Kasamori Osen". Suzuki Harunobu 's work features is a modest depiction with pastel color. Introducing Ukiyo-e prints that are erotic and cute, and also have interesting ideas.
Dwarf's adventure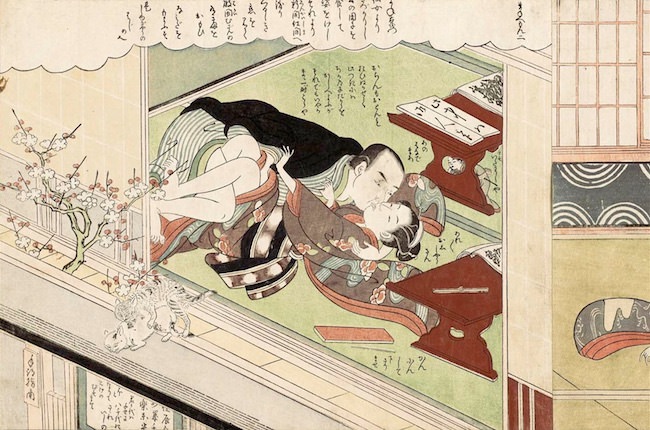 This work is a story that the main character "Ukiyonosuke"  who became small with a secret medicine is said as "Mane'emon" and pursues mystery of the love affair. I am surprised that the idea of becoming a dwarf and looking into love affair had existed over 250 years ago!
Well, the main character of the dwarf "Mane'emon" exists in this painting as well. Where is he?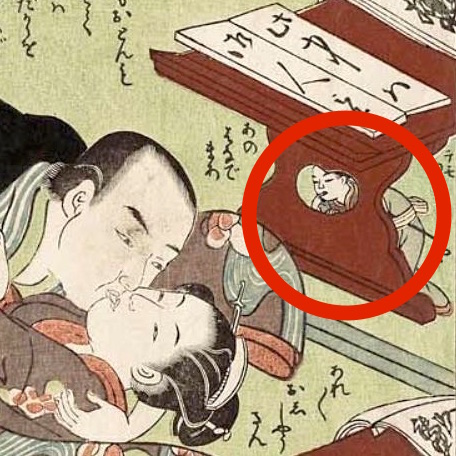 He is look on enviously at an affair from the hole in the desk's leg. By the way, turning your eyes outside the room,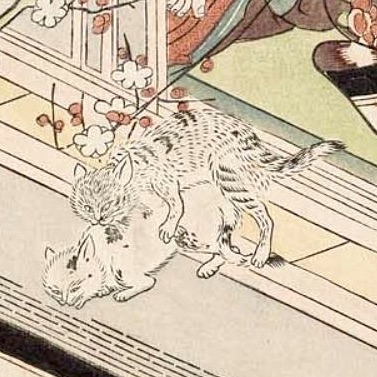 Cats are also mating. Animals often appeared as supporting actors in shunga, make the viewer laugh. This work is just like a "laughing picture". There is no excessive sexual expression, so I am heartwarming as a whole. "The series The Amorous Adventures of Mane'emon (Fûryû enshoku Mane'emon)" was a popular work, sequels and similar works were also published.
Ignore a child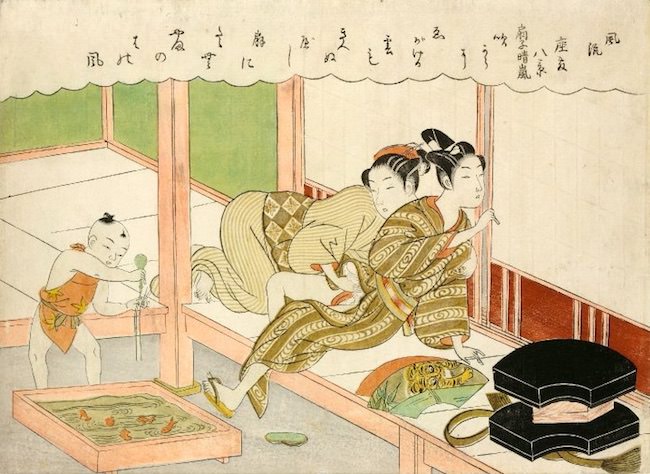 In the middle of the 18th century Harunobu painted enpon  (erotic ukiyo-e book) "The series Eight Fashionable Views of Interiors (Furyu zashiki hakkei)", which contains 8 pictures, this is one of them. At first glance it looks like fellowship between females, but the person on the right is actually male. He is young and good-looking fan seller.
When the good-looking fan seller turned his back to take out the product, a customer woman sexually assaulted him. I wonder if  she was sexual frustration. At the bottom left of the picture, it is very funny that a child who seems to be a son of a woman plays with goldfish in the style of "I am not interested".
By the way, children often appear in shunga, they fool around and interfere with sex. This is considered to be one of the laughter methods in the shunga called "laughing picture".
Suzuki Harunobu 's works are heartwarming.
Third person is Utagawa Kuniyoshi.
The pen name for shunga is "Ichimyôkai Hodoyoshi". This name parodied his own pen name "Ichiyûsai Kuniyoshi". He is a Ukiyo-e artist representing the late Edo period. Innovative design power, unique ideas are unparalleled. It is famous as cat lover and he also drew a lot of cats.
sexy guy with bedroom eyes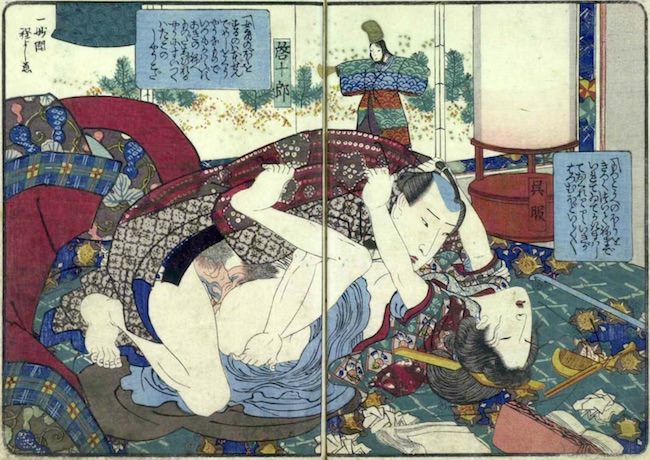 It is one of ehon "The Pillowed Boudoir (Chimpen Shinkeibai)" (year 1830) drawn by Kuniyoshi. The man is a rogue named Keiichiro. It seems that the bad man 's dangerous sexuality is condensed on his bed room eyes.
After all he like cats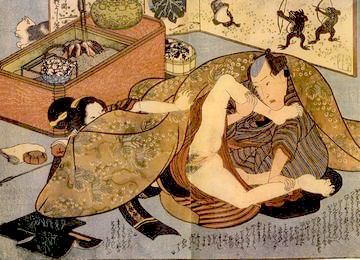 This is the scene where a man is watching his wife's vagina carefully. It is touching about the situation of his wife who is shy and hides in the futon. Please pay attention to the upper left of this shunga.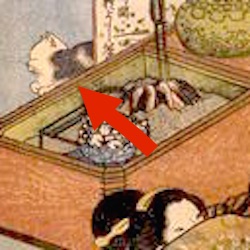 If you look closely at the back of a folding screen there is a cat. It is truly famous Utagawa Kuniyoshi as cat lover. A cat comes up to such a place.
Fourth person is Kitagawa Utamaro.
sensual atmosphere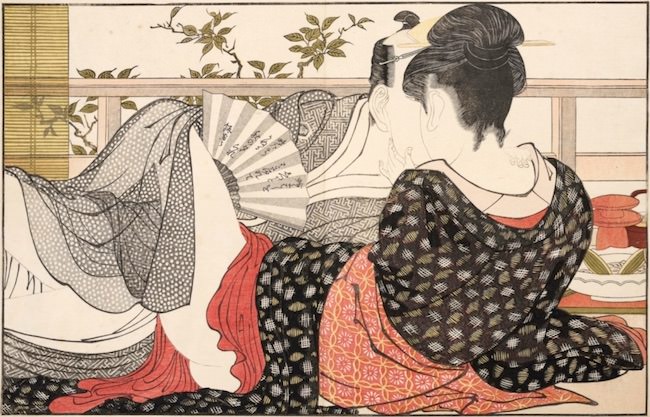 A painting by Utamaro who is a leading painter of "Bijin-ga" (pictures of beautiful women), the shunga collection "Poem of the Pillow" is said to be the highest masterpiece among many shunga. This work depicts a couple of man and woman hook up on the second floor of the teahouse. Although exposure of the skin is less, there is a sensual atmosphere. A woman's white butt visible from the gap of the red loincloth, man's transparent haori coat, and a man's eyes seen only a little! That's great!
Fifth person is Torii Kiyonaga.
Torii Kiyonaga was a Ukiyoe painter who painted a picture from the middle to the late Edo period. A unique "Bijin-ga" (pictures of beautiful women) which seems to be taller than the eight heads high drawn by kiyonaga took the world by storm.
Horizontal long, the best masterpiece of his work

Ehon "The Scroll of the Sleeve (Sode no maki)" (year 1785) features a lengthy  width 2.2 – 2.4 feet, height about 4.7 inches and a very long and unusual style. Speaking of his works, beautiful paintings depicting women of over eight heads are famous, and although they are longitudinally long impressions, this work overturnes such impressions. An exquisite composition that does not feel cramped at all. They are happy with a smile.
Nonchalant woman's look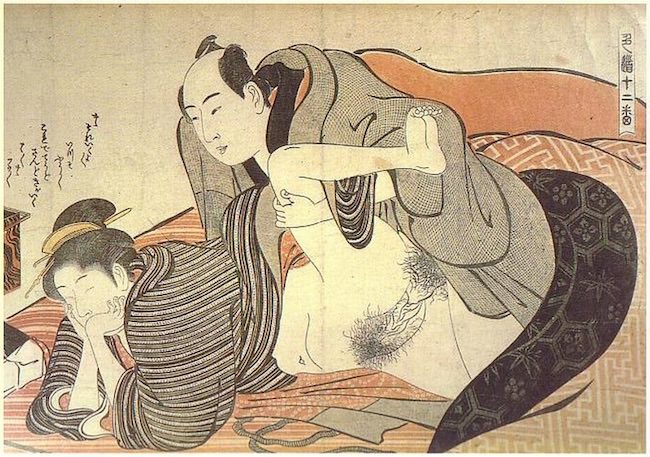 This work is one of twelve sheets, ehon "Shikido junitsugai" (year 1785). This woman is also impressive with smiling face and happy look. Characteristic of shunga painted by Kiyonaga is such warmth and generous.
Sixth person is Utagawa Kunisada.
Utagawa Kunisada is a Ukiyo-e painter who gained tremendous popularity in the late Edo period. His pen name for shunga is "Bukiyo Matahei". It is famous for drawing bijin-ga and actor pictures that make the decadent mood of the Edo period drift. He is also known as Utagawa Toyokuni III.
Popular work parody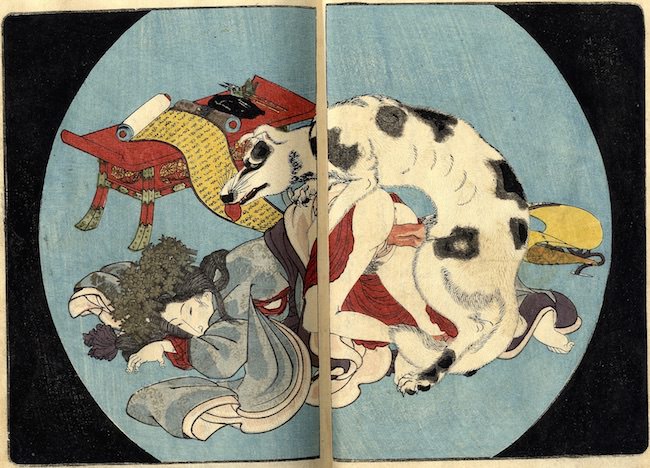 This ehon "Love of Yatsufuji (Koi no Yatsufuji)" drawn by Kunisada is an erotic parody of long seller novel "Nansō Satomi Hakkenden" written by Kyokutei Bakin,  a popular writer in the Edo period. Since parody is not interesting if it is not serious, it is faithful to the original such as text, illustration, character name.
Well, in "Hakkenden", the beginning of the story is a scene where a dog falls in love with a princess who is an owner. However, the dog and the princess do not have a sexual relationship.
On the other hand, how about parody "Love of Yatsufuji (Koi no Yatsufuji)"? The princess has been fucked by a dog.
Wow …
Besides, why is this shunga cut out with a black circle? Actually, this is because the princess's father is watching with a telescope from afar.
umm…This is chaos.
This worldview confuse even modern people living 200 years later. Shunga is really amazing.
Finally, I introduce common questions about shunga.
Frequently Asked Questions of Shunga
Question "Did Tōshūsai Sharaku do not draw a shunga?"
Question "Why are the penis being painted so large, is it to show off?"
Question "Why do they have sex  while wearing a kimono?"
Question "What is the roots of shunga?"
Question: "Were not the shunga regulated?"